Annual report
It has been a busy and successful year for YourPlace.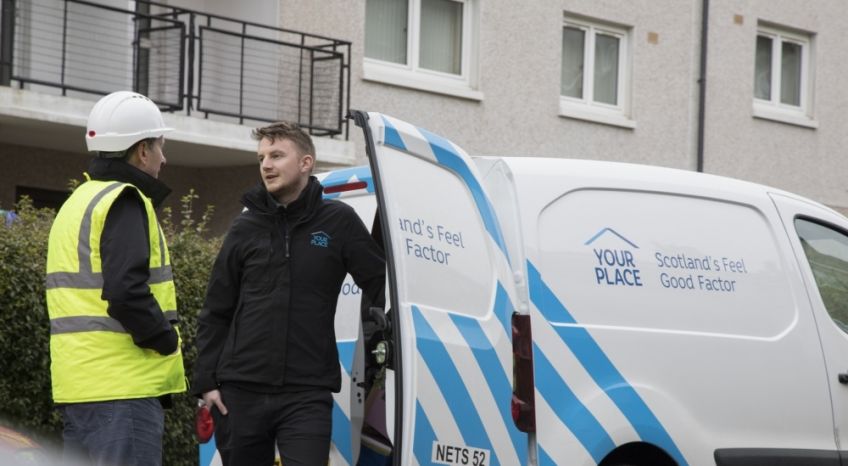 We were appointed to factor over 2600 homes for Dunedin Canmore Housing Association that had previously been managed by its subsidiary, Dunedin Canmore Property Management (DCPM).
We continued to grow our business, becoming factor for new-build developments in Harthill, Hamilton and regeneration areas in Glasgow, and saw more homeowners switch to us from other factors. In total we gained 512 new customers.
At the end of the financial year, we provided property management services to 29,850 properties across 13 local authorities stretching from West Dunbartonshire to East Lothian.
You can read more about our highlights for the year 2017-18 below.
Supporting communities through Gift Aid
Any surplus we make each year is Gift Aided to the Wheatley Foundation to support its charitable programmes in disadvantaged communities across central Scotland. In 2017/18 we generated £1.74M. The Wheatley Foundation will use this to help:
support 4960 people experiencing poverty
provide 50 bursaries for people going to university or college
create 600 new jobs, training places and apprenticeships
offer 500 people access to sports or arts projects
tackle digital inclusion through 36 community-based Click 'n' Connect centres.
Business performance
We continued to focus on addressing customer debt and supporting customers who struggle to pay. In 2017/18 total customer debt was reduced by £670,000 following the introduction of more customer focused approaches. This also saw an increase of 10% of people paying by direct debit.
We also focused on complaints handling to ensure we were more responsive to our customers, learning from every complaint we received. 98.7% of complaints were responded to within five days, and on average we responded within three days.
Our optional services (gas boiler cover, home contents insurance and internal repairs) continued to perform well, generating £255,000 profit for Gift Aid.
Our repairs service
More customers were happy with our repairs and maintenance service in 2017-18. 74.1% of customers receiving common repairs were happy with the work done in March 2018 compared with 70.89% the previous year.
The improved performance came after we rolled out our new repairs service which is delivered in the west by City Building (Glasgow) and by Dunedin Canmore Property Team in the east. City Building (Glasgow) has been jointly owned since April 2017 by our parent company Wheatley Group and Glasgow City Council.
Improvements to the service include new local teams, closer working between repairs teams and YourPlace staff and greater focus by the tradespeople on customer service.
We are continuing to work in 2018-19 with the repairs teams to improve the service to owners, particularly around keeping people better updated about when repairs are happening.
Protecting and improving homes
YourPlace continued to deliver improvement work, helping owners protect the value of their homes. Projects completed included new roofs and rendering, environmental improvements and external wall insulation.
YourPlace, working with Glasgow Housing Association, was able to secure £500,000 Home Energy Efficiency Programme funding from Glasgow City Council and energy suppliers to help owners in Sannox Gardens, Riddrie and Scotstoun with the cost of these improvements.
Our building insurance continued to offer customers a great value product, and was a key factor in customers deciding to switch to us from other private factors.
Our contract with Ageas includes a profit share arrangement, ensuring we both work hard to deliver a good service to customers. We received £63,000 as our part of that profit share, helping us increase Gift Aid to the Wheatley Foundation for good causes.
Engaging with customers
We continued to engage with customers across a range of channels, listening to their feedback and using it to improve services.
We completed a comprehensive review and update of our Written Statement of Services which we are required, as a Registered Property Factor, to provide to every customer. Our new two part Written Statement was well received by customers who told us it was clearer about services and charges and provided more information about what to expect from us.
Our new website launched in October 2017, making it easier for customers, potential customers and visitors to find the information they were looking for and to express an interest in our services.
Responses to our online survey in March confirmed customers were happy with the changes to our website, which has attracted up to 3800 visitors a month since it launched, and with our online self-service where they can pay and book appointments.
More than 3191 customers were registered for online self-service at the end of the financial year with people finding it quick and convenient to make payments, check their account, book a repair or request a service. Since then we have simplified the sign-up process, encouraging thousands more people to register and use online self-service.